Studio Rooflight installation
by Coventry Industrial Roofing
Why specify the Studio Linked and Studio Designer Range?
With all the qualities and advantages offered by the Conservation Rooflight® and the neo Rooflight , the Studio Rooflight is designed for projects requiring a run of finely detailed, low profile roof windows.
The three options available are based on our tried and tested linking strategies which provide different visual appearances, with one key differentiator which is the gap achieved between each casement.
Studio Linked (T-Bar Link)
188 mm gap between casements.
For projects requiring a run of standard neo or Conservation Rooflights®, the Studio-Linked option provides the ideal solution. Since this is achieved by means of the 'Linking T-bar' installed between standard models of neo and Conservation Rooflights®, there is no limit to the number in the run. In addition, widths can vary and all casements are openable.
12mm gap between casements.
For a finely detailed run of rooflights, the Studio Designer option utilises standard neo steel or Conservation Rooflight® casements which are assembled onto a single, purpose designed base-plate. The result is a seamless run of rooflight casements, a mere 12mm apart which can vary in width with any or all being opening or fixed shut.
50mm gap between casements.
"Type A" linking enables linkage of multiples of Studio Designer rooflights resulting in a gap of only 50mm between the casements on separate base-plates.
The Linking T-Bar can also be used to link Studio Designer assemblies, producing a gap of 188mm as detailed above.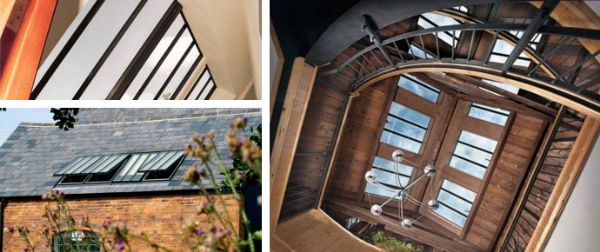 Contact us today on 024 7695 0500 to speak about a free quote.